Arizona District 7: 2023 Little League Fall Ball Information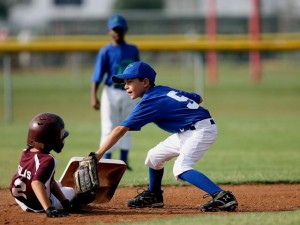 Emphasis is placed on Training and Development.
Weekly Team Practice. (one per week)
Weekly games either Friday evening or Saturday morning.
Double headers (2 games in a day) are possible for Minors, Majors, and Juniors.
Mandatory Play is 6 outs / 1 at bat per game.
We will be starting practice the week of AUGUST 21st (Monday)- Games will start Sept. 8(Friday).
Coaches – This season we will NOT be "holding" spots. If you are expecting players, have them register early. No custom uniforms in Majors and below.

SCHEDULES: Not Posted Yet
General Information:
1) WALK IN REGISTRATION: Not Available
2) You can register online starting June 1st by clicking here.
3) Fall baseball is open to players aged 4-12.
4) Fall Juniors Baseball will not be offered for 2023.
5) Games will be played at Quail Run and Fiesta Park.
6) Space is limited and spots are on a first come first serve basis.
7) Players are grouped by area (their "home" league) – player requests are accepted.
8) Uniform includes Hat and Shirt. Fields, umpires, lights, etc, are all included in the cost.
9) Season is from late August – 1st week of November.
10) Boundaries are combined during the fall season.
11) Team managers must have managed in a Local Little League in the Spring.
12) We are ONLY taking 12 teams this year per division assigned in order of registration.
Registering early helps us with field permits and team counts that need submitted 30 days in advance.
Save $15 if you register before August 7th
Some divisions will CLOSE as teams start to fill up starting August 1st.
If a division does not show available on the signup form, it means we are out of space in that division.
The Participation Fee during FALL is:
$80 $65 for Tee-Ball (ages 4-6)
$110 $95 for Coach Pitch co-ed Baseball (Ages 6-8)
$125 $110 for Minors Softball (Ages 8-10)
$125 $110 for Majors Softball (Ages 10-12)
$140 $125 for Minors Baseball (Ages 8-10)
$140 $125 for Majors Baseball (Ages 10-12)
$250 Family Maximum (send email if registering online)
We do not do any type of fall season fundraising.
Fee's are due at registration. The fee's paid cover equipment such as game balls, lights, field rentals, insurance, umpires, and of course the uniform. Fee's will be refunded if a player is unable to play but please let us know as soon as possible.
FAQS
We will attempt to provide Fall Ball FAQS in this section based on how the program is operated and questions received by the Program.
Question: Does a player have to try out to be a member of a Fall Ball Team
Answer: No, teams are formed by Local League Affiliation, age group, and experience level.
Question: Is Fall Ball open to all Kids?
Answer: Yes, generally speaking the program is open to all kids wanting to participate.
Question: Please explain the Fall Ball Age Structure.
Answer: Age is calculated using Little League age guidelines + 1. Calculate League Age
Question: What do I need to purchase?
Answer: Shirts and Hats are provided. You will need to purchase pants unless your child has them already. Also a youth protective cup is recommended for all boys and is required for boys wanting to play the position of catcher.
Question: Can my child request a team?
Answer:Absolutely. It would be up to the coach if they have room on the team. We try to place every player where they want to play.
Question: Are there late signup's?
Answer: Generally no. We need to organize teams quickly so we try to avoid signing players up late.
Question: What are the rules in Fall Ball?
Answer: Generally they follow regular LL rules.
Question: I have additional questions about FallBall, who should I talk to?
Answer: Mark Yarbrough organizes the FALL program. You can email him at mark@azd7.com